Microneedling is a minimally invasive facial rejuvenation treatment that stimulates the skin's natural healing process to remodel the skin. The production of collagen and elastin are significantly enhanced while the absorption of products is increased up to 2000% post treatment. The overall effect is a more even skin tone that appears taut and glowing. Acupuncturists performing microneedling treat the skin as well as the underlying issues so the overall health of the skin is addressed.
How Does Microneedling Work?
During a microneedling procedure, a special pen uses tiny needles to create holes, or "micro-injuries", in the skin. These tiny holes minimize cellular damage while also stimulating the body's natural wound-healing process by producing collagen and new skin cells. Collagen, which is a naturally occurring protein, helps the skin withstand stretching. The new skin cells help create a more even texture and tone.
As with any cosmetic procedure, there are some risks. The most common side effects include redness and minor skin irritation immediately following a microneedling procedure. 
What is Microneedling Used for?
There are many microneedling benefits to consider, but the five most common benefits are:
Reducing fine lines and wrinkles by naturally building collagen 
Reducing acne scars
Shrinking pores
Diminishing the appearance of sun damaged patches 
Reducing the appearance of stretch marks
Collagen is the common factor among many of these microneedling benefits. While your skin is healing, collagen is produced and rises to the surface of the skin. The accumulation of new collagen fills in fine lines and wrinkles, acne scars, and shrinks pores. In addition to collagen helping to improve the texture of your skin, it can also improve your skin's radiance by minimizing the appearance of sun spots and stretch marks. 
Getting microneedling done from an acupuncturist has a couple extra benefits. The procedure is done in a calming, spa environment and during the numbing cream time, body acupuncture points are placed to relax the body, heal from within, and stimulate the skin. Additionally, after the micro needling session, an LED light is placed over the face to help repair the skin, kill bacteria, and speed up the recovery process.
How Many Sessions of Microneedling Do You Need to See Results?
Because microneedling uses the body's repair systems to improve the skin's appearance, results are not immediate. And while you may see some improvements following one session, most people need a series of three or four treatments to maximize their results. Each session is done 4 weeks after the prior session. On the plus side, microneedling is minimally invasive and has little downtime.
How Long Do Results from Microneedling Last?
The exact length your results last will depend on your age, skin type, and how well your skin responds to treatment. And while microneedling permanently increases the amount of collagen in the treated areas, the aging process will continue to occur. Some patients will schedule quarterly or semi-annual treatments to maintain maximum results, while others may go 3-5 years between sessions. 
What Can I Expect from a Microneedling Procedure?
Before a microneedling treatment, Natalie will examine your skin and discuss your medical history and your goals for the treatment. Pictures may be taken to compare your skin before and after microneedling.
During the procedure appointment, your skin is cleansed and a numbing medication is applied. The medication sits for 15-20 minutes (while you relax with calming acupuncture points) and then the skin is cleansed again. A cool gel is applied to the areas to be treated and then the microneedling pen is passed over the skin. Many suggest the procedure feels as if an electric toothbrush is being used on the skin. A treatment typically takes 15-20 minutes depending on the size of the area. After this, Natalie places an LED light over the face for 15 min in order to heal the skin, kill bacteria, and speed up the recovery process.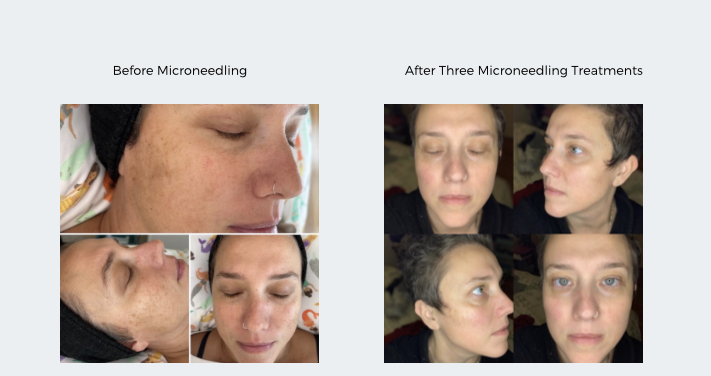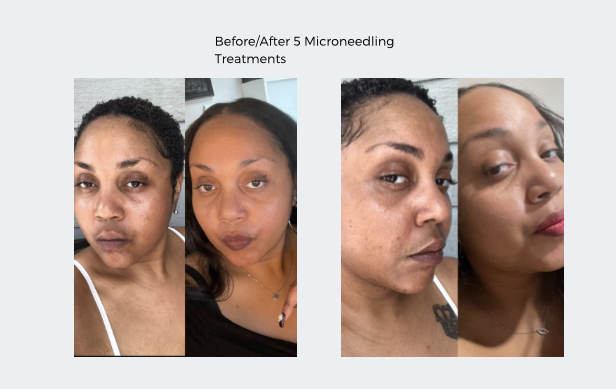 Who is a Good Candidate for Microneedling?
Almost anyone who is in overall good health. If you have any of the following concerns, speak with Natalie before scheduling a microneedling procedure. 
Pregnancy or trying to conceive 
Acne or treating acne with medication
Injections/fillers/laser treatments 
A blood disorder or are prescribed anticoagulants (aka blood thinners)
Cancer and are being treated with radiation or chemotherapy
Frequent cold sores or skin rashes
Your skin forms hard, raised scars when healing (keloids)
Eczema or psoriasis
Microneedling Aftercare Details
Natalie will give you specific instructions on how to care for your skin after your micro needling session. If you purchase a package of three, she will also include an essential starter kit of the amazing TOMA products she uses in her treatments.
Plant-based skincare made consciously for people and the planet. Formulated by licensed acupuncturists with healing bioadaptive herbs. Made in small batches with plants grown without pesticides. 100% free of hormone-disrupting ingredients like parabens & phthalates . Always vegan, cruelty-free and made with planet-kind packaging.