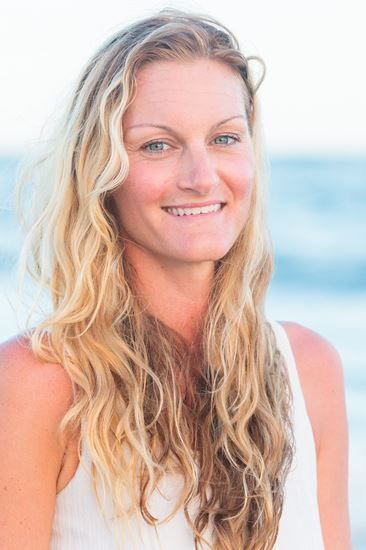 Natalie grew up on Isle of Palms, SC and had a huge yearning to go out West after high school. She went to college and met her husband in Missoula, MT. It was there that she was introduced to alternative healing modalities- such as Naturopathy, Homeopathy, Herbal healing, Yoga and Meditation- and her interest grew. After traveling around out West and learning from a lot of different natural healers and mentors, they found themselves in Asheville, NC where Natalie decided to continue her alternative healing journey by going to Acupuncture school.They have 2 active teenagers that keep them VERY busy with sports and school. They are all travelers and like to divide their time between Asheville, NC and Charleston, SC. One interesting fact is that their whole family took a year off and traveled around the country in their RV and did school and work "on the road"!
Natalie received her BS in Health and Human Performance, with an emphasis in Exercise Science and Nutrition, from the University of Montana; became a certified Traditional Herbalist from the NC School of Natural Healing; and has practiced Acupuncture and Oriental Medicine for almost 20 years through her Masters degree from the Atlantic University of Chinese Medicine (a four year acupuncture and herbal medical school). She holds her National Certification title of Dipl. Ac. through the NCCAOM.
Natalie sees everything from anxiety/stress and emotional pain to sports injuries, but her main specialty is women and their issues throughout every stage of life. She has helped many women achieve a healthy pregnancy, even when they were told they would not be able to. She works closely with doctors and midwives to make sure the patient is the healthiest they can be during all of these phases of life. Natalie is passionate about helping achieve conception, pregnancy at all stages, and postpartum issues. One particular goal of Natalie's is to help decrease the amount of unnecessary cesarean sections that are currently done. By helping turn breech babies, she has allowed many women to have a natural delivery and therefore minimize the number of unavoidable breech c-sections. Also, Natalie has helped many women avoid a chemical labor induction by sending them into labor naturally with acupuncture. It is so important to her that women understand that there are alternatives, and they do have choices. She has also worked intensely with fertility doctors to help their patients achieve conception, and she helps see the pregnancy through to birth, insuring a healthy mama and baby. She has worked with patients undergoing IUI's, IVF, and egg/sperm donor situations.
A big part of her practice is keeping her patients healthy, immune systems boosted, and their wei qi strong to prevent colds, flus, allergies, and sicknesses. If you are getting regular maintenance acupuncture treatments, you will have fewer colds and your recovery time is much faster if you do get something.
Natalie also focuses on children and their need for healing and prevention from illnesses and injuries. She has been treating her own children, and many more, since infancy. She has two very busy, active teenagers that have had many sports related injuries. She is well accustomed to helping children and adults naturally find relief from injuries due to sports or casualties. It is very important to keep the body tuned and strong to help prevent injuries as well. Natalie includes stretches, diet suggestions, and lifestyle changes in order to improve her patient's risk of getting injured.
Click here for her article on pediatric acupuncture.
Natalie worked alongside the medical community by having her office inside Biltmore OB/GYN medical practice for 10 years. Natalie is very involved in her community and frequently gives talks for childbirth education classes, Mommy and Me groups, Infertility workshops, and more.
Natalie has mastered the passion that lies deeply rooted in the practice of acupuncture and Chinese Medicine by consistently attending continuing education courses and doing practical work on her patients, herself, and her family. She believes that her patient's needs are what fuels her practice, and she is committed to meeting those needs. As a result, over 95% of her business is from repeat patients and referrals.
"I welcome the opportunity to earn your trust and deliver you the best care on your journey to ultimate wellness."